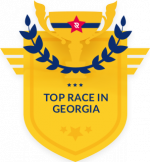 So why is the MLKDay5k so unique? Not only does the race celebrate MLK Day, but we are working with Atlanta area schools, churches, community organizations and businesses to use the race as a fundraiser for their community-oriented initiatives. $5 of each registration from an approved organization will be returned to that organization for use in community efforts of its choice. In other words, if 100 people register under Team X, we will send a check for $500 to Team X's organization. Get your team/organization signed up today!!
This is a USATF certified 5K race course and a Peachtree Road Race Qualifier.  The 5K walk/run will start and finish across 10th street from Grady HS in Piedmont Park. Participants can take MARTA or park near the Start/Finish.
Not only will there be a post race party including music and events centered around the celebration of MLK Day, but there will also be a 5K Drumline along the race course.  About one drummer every 50 meters will give the race a unique vibe that will transform the 3.1 miles into fast parade.  Just think…drummers will keep the beat as you streak through the Park!!
Every race day participant will receive the popular MLKDay5k T-shirt along with a bag full of goodies and special offers!
Professional timing and Age group awards will be presented by Orion Racing.
Baby joggers (bumpy course) and dogs welcome.
Other questions? Please see our FAQ's page!
1) Over 400 drummers lining the race course!!
2) Awesome Cool Shirts
3) Professional Timing by Orion Racing on a USATF course
4) Opportunity to support your favorite charity
5) Dance warm ups by Kim Armstrong
6) Live music
7) Good ole fashion Preachers
8) A Cross Country Invitational Starting Line 200 meters WIDE
9) Beautiful Piedmont Park
10) Thousands of beautiful people to share the morning with
11) FREE professional photography