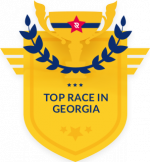 So why is the MLKDay5k so unique? Not only does the race celebrate MLK Day, but we are working with Atlanta area schools, churches, community organizations and businesses to use the race as a fundraiser for their community-oriented initiatives. $5 of each registration from an approved organization will be returned to that organization for use in community efforts of its choice. In other words, if 100 people register under Team X, we will send a check for $500 to Team X's organization. Get your team/organization signed up today!!
This is a USATF certified 5K race course and a Peachtree Road Race Qualifier.  The 5K walk/run will start and finish in Stone Mountain Park. Stone Mountain Park is waiving the gate fee for Drum Run participants! Let Freedom Run for FREE!
As we are still in a State of emergency with coronavirus:
Be respectful of others.
Respect personal space (6 feet).
Do not spit, sneeze or cough in any ones direction
Its the dead of Winter, please wear a mask and gloves
If you wake up sick, stay home. We will mail you your shirt.